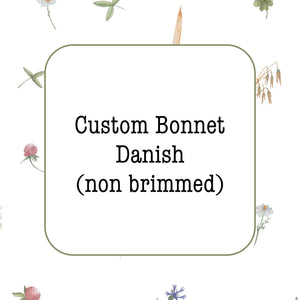 ... ... ...
Please note that percentage coupons cannot be applied to this listing although giveaway and auction coupons are accepted
All of my bonnets are made from preloved clothing, curtains, donated material and vintage fabrics. Most are 1-10 of a kind, some I can make more of. 

Please keep in mind that the bonnet pictured may not be the exact bonnet you receive. The embroidery, pattern, lace and pattern may differ depending on where from the garment the bonnet was cut out from. Also, colors can change from one screen to the other. I try to photograph the bonnets in natural light and keep the colors as true as I can.

Measurements:
First measure from jawbone up around the head (above the forehead) and back down to the other side, then the second measurement from one temple to around the back of the head to the other temple.


Newborn
0-3 months 13.5" and 12.25"
3-6 months 14" and 12.5"
6-12 months 14.5" and 14
12-18 months 16" and 14.5"
18-24 months 16.5" and 15.25"
2t-4t 18.5 and 16

This bonnet must be hand washed, hung to dry. Cool iron if needed.