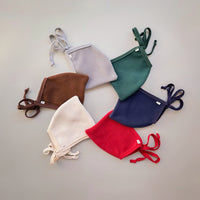 The Fleece Pixie
No one likes cold ears this time of year! Snag one of our popular fleece pixies & keep those tiny ears protected from the elements.
Shop for our warmest bonnet now!
How to donate textiles
Hi there! Thanks for stopping by with the interest in donating to our business. Whether you just like thrifting for bonnet worthy textiles & seeing them upcycled into our beautiful bonnets or you're cleaning out you own closet/fabric stash WE LOVE to see what you guys send. I have always said...
Read More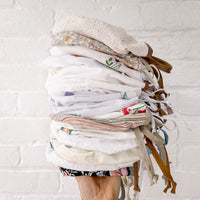 SAA Scraps : No Waste Products
Penelope • Necklaces & Bonnets

Regular price

from $18.00

Tanya

Amanda
NEW blog : the small shop community
BEFORE & AFTER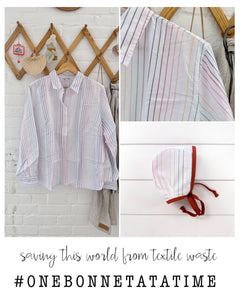 Love & Bonnets
The recycling of textiles & vintage fabric to make baby hats is what for inspired me to shop with Carrie. The community she has created & her niche in the small shop community has created a place for me as a Mom. Whether sharing ideas or cute pictures of our kids, Sweet As April is a community of kind humans, raising tiny humans, connecting online ( over bonnets) during a pandemic.

Bobbi
I buy Carrie's bonnets because I love that the majority of the bonnets are made with thrifted, vintage, and/or secondhand fabric. I love that these beautiful materials are not going to waste but that a generation of little ones can enjoy all the love and attention sewn into an accessory.

Alexis
I think they are the sweetest accessory, and I absolutely love that they are made from upcycled material. Plus, buying from Carrie, and supporting her beautiful family makes it even more worthwhile! (Like if it was a grumpy old man selling bonnets I probably wouldn't want them so much 😂😂)

Ashlee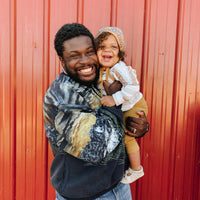 Want to Collaborate with us!?
I love working with other like minded creators on Instagram. If you think your photography and following would be beneficial to my business, click below to read more
COLLABORATION APPLICATION